'Bud and Breakfast' Joins Emerging Marijuana-Friendly Colorado Hotels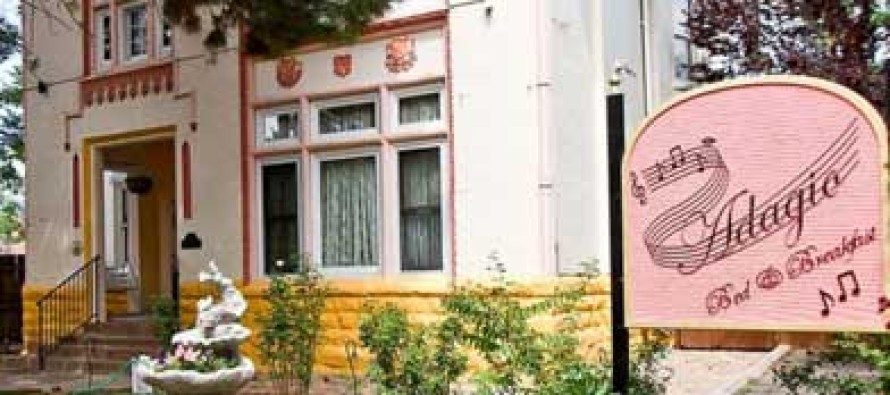 Article by Joanna Presco | Good Morning America – April 15,2014
Travelers heading to Denver with a desire to "wake and bake" will have a new lodging to consider this May, when a local hospitality group launches the latest in a handful of marijuana-friendly accommodations in the area.
The MaryJane Group has announced that it will be taking over the Adagio Bed and Breakfast, a longstanding inn located in the Wyman Historic District, and relaunching it as "the first all-inclusive Bud and Breakfast," catering to clients who desire a fully immersive cannabis-infused vacation.
"When the previous owner Helen [Strader] ran it, she allowed it to be 420 friendly but all of the smoking was done outside the premises and she didn't advertise it," Dawn Schiermeyer, the new director of lodging at the property, told ABC News. "So it's been an easier transition for us because some people are already aware of it. But we're in the process of modernizing the space to make it appealing to a younger crowd."
One the way out: all of the antique Victorian furnishings.
On the way in: fully renovated, themed guest rooms, marijuana-edibles from a local dispensary as well as a "humidor smoking room" on the third floor.
READ: Why Marijuana Edibles are Harder to Regulate and Don't Get You as High
The Adagio 'Bud and Breakfast' joins just a handful of properties in the Denver area that have braved this uncharted travel territory. But despite such small numbers, the options are diverse.
Get High Getaways, a clothing-optional, marijuana-friendly environment advertises a raucous-yet-private environment complete with female staff wearing pot-leaf pasties on its website.
Meanwhile, The Cliff House, a historic property in nearby Morrison that was built in 1864, offers eight romantic cottages and also entreats those who indulge in cannabis.
"Even with the legalization of 'Mary Jane,' finding a friendly hotel environment might not be as easy as you think," reads a blog post on The Cliff House Lodge's website. "It may take some time before others join in, but until then, we have no problem being the leader in this movement! Cliff House Lodge welcomes the responsible connoisseur."
READ: Colorado Couples Say 'I Do' to Cannabis at Weddings
For gourmands whose tastes extend beyond hashish, The Adagio Bud and Breakfast will also be employing an in-house chef, said Schiermeyer.
"We'll begin with a basic breakfast menu and then expand to lunch and dinner options," she said, adding that dispensary sample packages, drivers and add-on tours will be available by the beginning of May.
"Our concept is to provide our guests with a complete all-inclusive package where they can enjoy the marijuana lifestyle without having a care in the world," said Joel C. Schneider, president and CEO of The MaryJane Group in a statement. "The Adagio is our pilot project in the marijuana-friendly lodging industry. If our concept is successful, we intend to expand through the leasing or acquisition of additional inns and bed and breakfast establishments."
---
---
Related Articles
A recent study found marijuana to be the least risky of recreational drugs alongside the likes of tobacco, LSD, heroin,
Watch this video. Watch this video. Watch this video. Watch this video. Watch this video.